Shturem.net

■ עדכון: 02:44- פיצוץ שלישי נשמע הלילה מבית חב"ד שבמומביי כשרימון יד הושלך מתוך המבנה לעבר כוחות הצבא ההודי המכתרים אותו מבחוץ - כך מדווחת רשת CNN
■ עדכון: 02:46- משלחת ישראלית עושה דרכה למקום כדי לסייע בחילוצם של בני הערובה במבנה ובהם שלוחי חב"ד במקום
■ עדכון: 03:47- כוחות הביטחון ההודים פתחו באש לעבר בית חב"ד. עדיין לא ברור האם הכוחות יפרצו אל המבנה
■■ עדכון: 03:50- גורם מדיני: ארבעה הרוגים בבית חב"ד; לבני: המצב כנראה לא טוב
■■ עדכון: 4:20 - חילופי אש כבדים בבית חב"ד
CNN
NEW: Fighting between Indian forces, gunmen reported at Jewish center

NEW: Gunman killed in Oberoi hotel around 1 a.m., official tells CNN-IBN
125 dead, 327 wounded in attacks on multiple sites, police say
MUMBAI, India (CNN) -- Fighting broke out early Friday between government soldiers in a helicopter and gunmen holed up inside a Jewish center where two or three gunmen were believed to be remaining.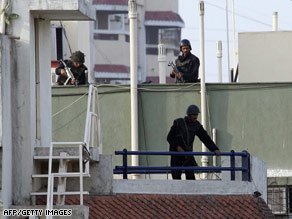 Indian army commandos are shown on the rooftop of Nariman House in Mumbai on Friday.
The operation followed after grenades had been tossed from inside the structure toward anyone approaching the building -- three such explosions occurred in four hours.
But movement appeared imminent shortly before dawn, when several jeeploads of police, firetrucks and at least one ambulance pulled up to the five-story structure.
The fighting at Chabad house comes as Indian security forces appear to be gaining control of two Mumbai five-star hotels attacked by gunmen in a wave of violence that has lasted more than 24 hours and killed at least 125 people.
A gunman was killed around 1 a.m. in the Oberoi hotel, where commandos were going room-to-room, trying to flush out attackers and rescue people, J.K. Dutt, the director of India's National Security Guard, told CNN-IBN, CNN's sister network in India.
Dutt said he could not say how many gunmen remained in the Oberoi, where hostages have been trickling out of the building for hours.
Security forces used in-house telephones to ask guests holed up in their rooms to switch on lights and open curtains, so that they could provide cover, CNN correspondent Andrew Stevens reported.
MORE